Infinity Stone
From Imperial Wiki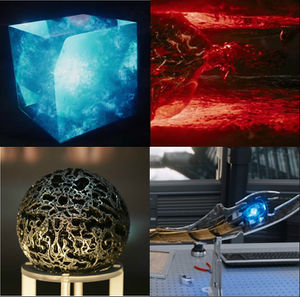 SPOILER ALERT: This article includes multiple spoilers for the Marvel Cinematic Universe.
The Infinity Stones are powerful alien artifacts in the MCU. Six are known to exist. All contain or channel vast quantities of energy. They are inherently dangerous, and they will destroy most people who attempt to handle them directly. Technology can be used to harness their energy with much lower risk.
Origins
According to the Collector, the Infinity Stones are remnants of "singularities" that existed before the Big Bang. An ancient race of advanced aliens made them into artifacts of immense power. At least one of their uses was to cleanse planets of all life. These aliens appear to be the Celestials from the comics.
Known Infinity Stones
Control
As noted, it is dangerous for a living being to directly handle an Infinity Stone. However, their power can be safely channeled through technological instruments. Arnim Zola was able to use machinery to siphon energy from the Tesseract and store it in "batteries" for use in weapons and vehicles. Ronan was able to attach the "Orb" to his hammer and manipulate its power indirectly without being harmed. Thanos has constructed a gauntlet into which he plans to install the stones; this gauntlet resembles one stored in the Asgardian weapons vault.
Malekith was able to control the Aether without any obvious technological apparatus, but his mastery of Dark Elf "magic" may have served as an invisible "instrument" for regulating its power.
Gallery
Trivia
There is some correspondence between the "Infinity Stones" and the "Infinity Gems" of Marvel comics. The full list of "Infinity Gems" includes Space, Time, Reality, Mind, Soul, and Power. The stones' color-coding in the MCU does not match that of the comics.
According to Guardians of the Galaxy director James Gunn, the "Orb" is the "Power Gem" from Marvel comics, and the Tesseract is the "Space Gem".
Avengers: Age of Ultron confirmed that the stone stored in Loki's sceptre was the "Mind Stone".
The "Infinity Gem" that corresponds to the Aether has not yet been identified, but based on what Malekith meant to do with it, it is probably the "Reality Gem".
Based on the feats that Doctor Strange was able to perform using the Eye of Agamotto, the stone it contains is probably the Time Stone.
The location of "Soul Stone" is currently unknown.