Sovereign-class
Jump to navigation
Jump to search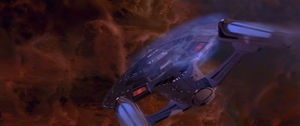 The Sovereign-class is a model of starship developed by the United Federation of Planets. It includes a number of technologies designed to help it defend the Federation against incursions by the Borg.
Technical Data
Specifications
Affiliation: Federation Starfleet
Crew: 855
Length: 673 meters (originally 685 meters)
Decks: 24-29 decks
Maximum Speed: 9.985
Armament: 16 Phaser Arrays (originally 12), 10 Torpedo Tubes. Photon Torpedoes, Quantum Torpedoes
Defenses: Regenerative Shields, Ablative Armor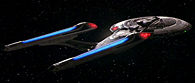 Relatively new technologies (for the Federation) installed on the Sovereign-class include the following:
Flaws
Despite all of these improvements, the Sovereign's on board systems are incapable of detecting Borg infiltration, and the Borg altering the engineering decks until Picard "senses" them.
History
Unit Run
Canon
Non-Canon
External Links
References