NX-class
Jump to navigation
Jump to search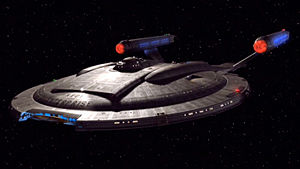 The NX-class was a class of starship built by the Earth Government in 2150 and the first human-built spacecraft capable of reaching Warp 5.
Technical Data
Although originally only barely capable of achieving warp 5, by late 2154, the NX-class was capable of reaching warp 5.2.
It was originally supposed to have 3 Phase Cannons, though by 2154, the USS Enterprise had twelve phase cannons installed. The USS Columbia received pulsed phase cannons, and had polarized armor that was 12% better then that on the Enterprise.
Production continued until the founding of the Federation on August 21, 2161.
NX-class Ships
Normal Universe
Canon
Non-Canon
Mirror Universe
ISS Enterprise (NX-01)
ISS Avenger (NX-09)
Gallery
References