There are certain things that piss me off in this world, as I'm sure there are for all guys. Of course, some of those things are fairly universal, so they're not even worth mentioning. Things like taxes or politicians or aggressive drivers are on everybody's list, so I don't think I need to bother putting them on mine.
Therefore, I'll just list some of the oddball, off-beat things that piss me off. Maybe you'll agree with them, and maybe you won't. Or maybe you'll appear in them, which would mean we have a problem. Oh well … I was never big on diplomacy anyway.
---
Rally-car wannabes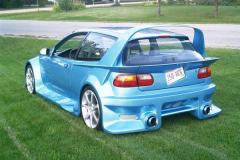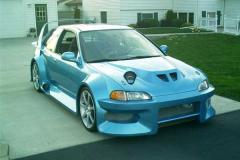 I think the pictures speak for themselves, don't they? You can just picture the driver too: trendy tough-guy tattoo wrapping around his bicep, "cool" fashion statement with wife-beater shirt and baggy pants (but with gay-looking highlights in his hair for some reason), and rap music blaring on the radio.
But as the guy on TV says, that's not all! In order to complete the package, he has to have oversized alloy wheels with super low-profile tires, a lot of fake ground-effects bolt-ons for the body so it looks like a race car, and of course, the ridiculously oversized spoiler wing on the back (as if he actually needs the down-force, especially on the rear wheels of a front-wheel drive car). He might even cut channels in the hood, for that authentic Ram Air look.
But for the coup de grace, he must commit the final atrocity. Yes, we all know what it is: it's the big fat exhaust pipe! Remember: it's not enough to have a trendy car: you have to make sure that nobody around you can ignore it, by making it as loud as possible! Ironically enough, this actually robs the engine of horsepower, because the engine's entire aspiration system was designed for a certain amount of exhaust system back pressure (not that TrendyBoy would understand this).
---
"Bono" from U2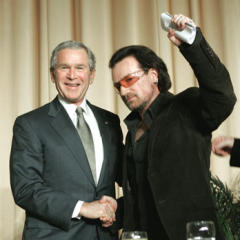 So why does this guy bug me? It's not his music; I'm not a huge fan but I don't hate it either. It's not his charity work; it's hard to be against charity work.
Perhaps it's the fact that he is held in such unreasonably high regard for his work. Nobel Peace Prize, Man of the Year, a knighthood, etc … why doesn't Bill Gates get the kind of accolades for donating his own money that Bono gets for convincing others to donate theirs?
It seems to me that Bono's praise is disproportional to his material contributions for the simple reason that he's a famous musician. I honestly can't think of any other reason. It's like the screaming teen fan-girl phenomenon writ large. Politicians and journalists fall over themselves to praise him, and it's not because he's accomplished so much more than any other philanthropist. It's because he's the only philanthropist who also happens to be a rock star.
This, of course, begs the question: what are they really giving those accolades for?
---
TV news anchors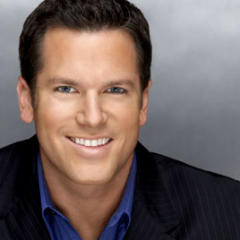 What happened to TV news anchors? When I was a kid, a TV news anchor was supposed to be a serious journalist, not just a pretty face. News shows avoided putting overly attractive people in front of the camera because it was feared that the public wouldn't take them seriously.
Oh my, how times have changed. Today, the news channels are totally unashamed about putting a woman in that chair who looks like she should be in a lingerie ad, or in a softcore blue movie on the Playboy Channel.
And why are they paid so much, or taken so seriously? Not only are they paid huge salaries, but they are routinely interviewed on all manner of social and political issues, as if their opinions are any more valuable than those of Ralph the bus driver. However, in case you haven't been paying attention, television news anchors are not experts in such matters. They don't even have to be particularly intelligent or knowledgeable. Any trained monkey with an expensive toupee and the ability to read a teleprompter could do the job with aplomb.
---
TV quiz shows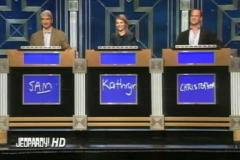 You know, I didn't always hate quiz shows. The idea itself isn't bad, but it seems that everyone correlates success in those games with intelligence, which is absolutely ridiculous.
Get something straight, people: the ability to memorize trivia does not denote intelligence! Doesn't anyone remember why they call it "trivia"? Look up "trivia" in a dictionary, ladies and gentlemen. According to Websters, it refers to "unimportant matters". Get that? Unimportant, as in not worth memorizing, as in useless shit.
So hey, play trivia games all you like, but don't convince yourself that because you've memorized the answers, you're any smarter than anyone else. The ability to memorize trivia does not make you smart. It makes you a human filing cabinet.
Intelligence is your ability to learn new concepts, not your ability to memorize useless shit! Albert Einstein would have done very poorly on those kinds of games, because he thought about far more grandiose things than baseball statistics or the precise names, dates and places to attach to historical events.
---
Extreme sports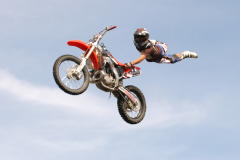 Someone, somewhere along the line got the idea that sports is not about running a quicker mile, or throwing a javelin farther than the next guy, or even team competition. Today, according to the "extreme sports" crowd, sports is about risking your life in incredibly stupid ways, and then bragging about all the places in your body where you need steel pins to hold your bones together.
They say that one only feels truly alive after having a close brush with death, either by nearly plummeting to your death during freestyle mountain climbing or by nearly pancaking in any of a number of other bizarre activities (such as the jack-asses who try to skateboard off their parents' houses roof). All I can say is: if you think you need to risk death in order to appreciate your life, then your life must really suck.
---
People who use the term "Grammar Nazi"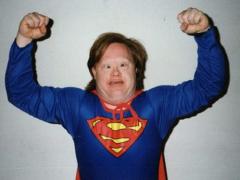 Somewhere along the line, people with horrible language skills got the idea that they were some sort of persecuted minority, like the Jews in WW2 Nazi Germany.
In fact, some people even seem to take a perverse pride in their linguistic incompetence. George W. Bush never fixed his mispronunciation of "nuclear" as "nucular", and you can't seriously believe no one ever told him, or that he never heard. No, he never fixed it because he had no particular desire to pronounce it correctly. Or, to put it another way, he was not embarrassed to pronounce it incorrectly. Similarly, if you point out to a redneck that "I seen you at the park on the weekend" is incorrect and should be "I saw you at the park on the weekend", he'll get angry at you. Nobody gets angry at you when you correct their math; why do they get angry when you correct their grammar?
Of course, laziness is also a factor: people are increasingly handing in job applications and résumés which are filled with spelling, punctuation, and grammar errors (and they're so stupid that they don't realize what an employer typically does with such carelessly crafted résumés). Another example of laziness is the dreaded phenomenon of SMS speak, where words are compressed into barely recognizable abbreviations:
SMS: "you ned 2 stop bn a snob. who cares if i spell wrong o do grammar wrong? i still get d point ax."

English translation: "You need to stop being such an elitist. Who cares if I misspell words or get my grammar wrong? I still get the point across."
Laziness is a flimsy excuse for such behaviour. Does it really save that much time to create such an unreadable statement? The incomprehensible SMS version is still ¾ the size of the original one, and it is nowhere near as readable. And what about people who use a spell-check, but who clearly don't understand which words they're supposed to use?
Moron: "i went to the grocery store to pick up some cookie's for you're mom but their closed."

English translation: "I went to the grocery store to pick up some cookies for your mother, but they're closed."
Sorry, but if you are an adult and English is your first language but you can't grasp the concept of capitalization or figure out the difference between "they're", "there", and "their" (or the difference between "your" and "you're", or the difference between "weather" and "whether"), then you're a moron. Similarly, if you always use an apostrophe when you pluralize a noun, then you're a moron. By the way, don't tell me language is unimportant: the greatest advancement in the history of the human race has been the development of written language. It is hardly something we should take lightly.
Now I'm not saying everyone has to be perfect, but quite frankly, it appears that an increasing share of the population is not even trying. You should at least make an effort, for fuck's sake! And you certainly should not get the idiotic idea in your head that you're being unjustly persecuted. When someone corrects your bad grammar, take it the same way you would if someone corrects your bad math: grow the fuck up and admit your error, instead of whining like a bitch and pretending you're an oppressed minority.
---
People who don't know how to give directions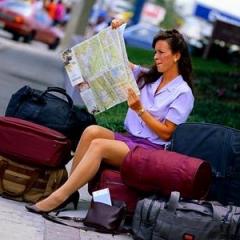 Do you ever get directions which sound like this?
"OK, you come up towards us, and then you make a left at the Dairy Queen just before county road five. After that, go through four stop lights, and then make a right turn at the street with the red brick house on the corner. Now, go two stop signs, jog left, and it will be the fourth house on your right, with the white garage door."
For all you country bumpkins who love to give directions like that, that was not a set of directions! No, that was a prescription for migraines, lost time, and marital strife.
It is incredibly easy to mess up directions like that (was it three lights, or four?), and it is also easy to make a mistake when trying to follow them. Moreover, once you get lost, it's hard as hell to correct.
If you want somebody to get to your house, here are a few suggestions:
Make a map and fax or E-mail it to them.
Use compass directions: north, west, east, south instead of right and left. This allows the driver to perform some basic orienteering, and it makes it easier for him to get back on track if something goes wrong.
Always give street names and numbers instead of (or in addition to) counting the goddamned intersections. It's too easy to mess that up, and it's a disaster waiting to happen. If you forgot the street names, the least you can do is get in your car, drive through the streets in question, and memorize their names. If you're giving someone directions to your house, this would mean that they are guests, and it would only be a common courtesy.
Make sure that if you give a street name, that name is the same as the one on the signs! Country bumpkins are bad for this: they'll often give a local, informal name for a street rather than the one on the signs, they'll give the name that the street used to have when they were growing up, or they'll give the street name rather than the county road number even though the intersection in question has a sign for the county road number rather than the street name.
If it's at night, turn on all of your damned exterior lights! It's not always easy to see the house numbers at night, and it doesn't help when your host doesn't bother making the house any more visible than its neighbours.
---
Rosie O'Donnell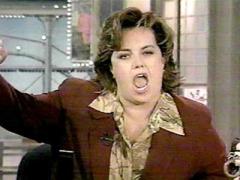 She used her wealth and fame to jump the queue and adopt a child ahead of more deserving couples who have been waiting for years. Welcome to America, where money can get you anything. Even babies.
She wants a baby, but she has never demonstrated the ability to maintain a committed relationship, either with a man or a woman (she has now revealed that she is gay, which is not that surprising). What makes her think she can be a good parent if she can't even hold up her end of a relationship?
Ever the staunch education advocate, she vented on mathematics, by saying: "I think there's no way they should have to teach it now. We have computers. We no longer need to know why 3X equals 2Y over 4." Gee, thanks Rosie. You're a fucking moron. Way to go … using your public visibility to promote the destruction of public education standards. Perhaps we should also stop teaching history because you can look it up on the Internet, science because you can watch science shows on PBS, English because computers have grammar and spell checks, and phys ed because kids can always play sports on their own time, eh?
She has people who do all her chores and take care of her kid whenever she's working, travelling, or attending celebrity shindigs. She complains that single parents get a bad rap. She ignores the fact that few single parents have her resources, and she helps sustain the belief (increasingly common among teenage girls) that a baby is not really that much of a disruption to your life.
She makes me sick. 'Nuff said.
---
Parking Spots Which Are Too Small and the Assholes Who Use Them Anyway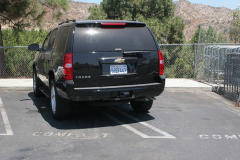 That picture really speaks for itself, doesn't it? Owners of parking lots have made the spots skinnier and skinnier over the years, to the point that you have to pretty much resign yourself to door dings if you park in one of them. Worse yet, the world seems to be full of assholes whose reaction to this phenomenon is not to park farther away where there's room, but to simply turn up their already-high asshole quotient and park right there.
The fact is, you can't stop an asshole from acting like an asshole by posting a sign. If the owners and managers of these parking lots don't give a shit about enforcing those rules, what is the point? Decent people avoid these special spots (like compact car spots, spots for handicapped people or families with babies, etc), but assholes merrily park in them anyway. Even if they have to park diagonally across two or three of them.
---
Telemarketers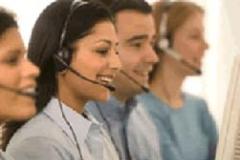 Do I really need to explain this one? When is someone going to institute the death penalty for telemarketing? Call your local government representative, and ask them to get on it.
---
Tight Clothes on Fat Chicks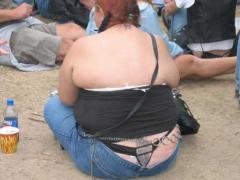 Look, I don't want large womens' advocacy groups sending me hate mail, but will somebody please explain to fat girls that certain kinds of clothes are simply not meant for them? I don't want to get into a war over body image and "fat acceptance", but these women have got to learn that you should dress a certain way when you're carrying those extra pounds.
For example, a fat woman will often wear a loose-fitting dress. But she should not wear the kind of pants which are so tight that you can tell which kind of underwear she has on! Tight pants go in and out of fashion, and when they're in fashion, they're meant for a woman who has a certain kind of figure (read: not fat).
Midriff-baring shirts, tight stretch pants, short shorts, and low-riding tight jeans look great on women who have the body to match. But they are downright scary when they're stretched over a woman who's carrying a hundred extra pounds on her. Please, somebody stop the suffering. Hot slut clothing on a fat chick is a sight that no man should ever be forced to see.
---
The Pussification of Men
When and how did so many men become such whiny crybabies? Just look at the following mission statement from the website mensactivism.org:
The underlying purpose of The Men's Activism News Network is twofold:

To provide pro-male activists with news and information that will aid them in working toward establishing equal rights for men and the improvement of men's lives.
To encourage participation in activism projects, and to promote membership in men's rights organizations which coordinate activism efforts and serve as a supportive network for men.
Did you catch that? Men trying to form support networks, as if we're an oppressed minority? Is this a joke? Unfortunately, it's not. The "men's rights" movement has gained steam in recent years, and it's a much bigger phenomenon than Rush Limbaugh's infantile feminist-bashing.
So what's unmanly about the men's rights movement? Well, let me take a stab at this by pulling up an old quote. The following is the "Code of the Knights" from Lord Baden Powell's book "Scouting for Boys", which was published in 1908 and became the inspiration for the Boy Scouts movement:
"Be Always Ready, with your armour on, except when you are taking your rest at night.
At whatever you are working, try to win honour and a name for honesty.
Defend the poor and weak.
Help them that cannot defend themselves.
Do nothing to hut or offend anyone else.
Be prepared to fight in the defence of their country.
Work for honour rather than profit.
Never break your promise.
Maintain the honour of your country with your life.
Rather die honest than live shamelessly.
Chivalry requireth that youth should be trained to perform the most laborious and humble offices with cheerfulness and grace; and to do good unto others."
Roll that over in your mind a couple of times. Do you notice anything interesting? You should: there's nothing in there about fighting for our own rights, our own after-tax income, our freedom to offend others, our freedom to behave in a boorish manner, or any of the other things that the right-wing promotes as "manly" today. And there was certainly nothing about lame displays of faux-manhood, such as wearing a "Tapout" UFC T-shirt or voting Republican.
Those who speak most often of traditional manhood tend to be clueless about what traditional manhood actually was. Traditionally chivalrous men saw themselves as protectors and benefactors of the rest of society, and like the men who stayed behind on the Titanic, they understood that this sometimes meant we would get the short end of the stick. In fact, they were proud of it.
Today, what we have are millions of men who think the biggest problem with society today is the loss of what Bill O'Reilly called "the white Christian male power structure". They see it being threatened by Muslims, feminists, blacks, atheists, gays, socialists … all groups which threaten this supremacy.
And what do they do about this? They whine. Oh, they whine. They whine, they whine, they whine, and then they whine some more. They even have an entire 24 hour news network devoted to this whining. They have copied every tactic of the feminists from the 1970s, and made them their own. And all of it in the service of material self-interest: the ethos promoted by the philosophy of Ayn Rand (who happened to be … a woman).
Of course, they'll argue that the feminists do it, so why shouldn't we? But that's the whole point, isn't it? If "manhood" is to mean anything special, then it's not enough to say that the feminists are doing it too. Women are allowed to have hormonal mood swings once a month; should we demand the right to have absurd mood swings once a month too?
Seriously, stop crying on TV. Glenn Beck, I'm talking to you.
Also, stop whining about mens' rights, when you know perfectly well that we still hold most of the power and wealth. Divorced dads are even worse: stop pretending that child support payments are unreasonable and punitive, when the median support payment in 2002 in the US was $263 per month (link). That's less than a lot of car lease payments! Is your own child worth that little to you? Yes, there are some really bad family law decisions being made out there, but there's no systematic conspiracy against men. Some of those really bad decisions hurt women too; it's called "incompetence", and family court is not immune to it. Besides, to be quite honest, whenever I run into one of these divorced "mens' rights" guys, I can totally see why his wife divorced him. Whiny, bitchy crybabies. Their wives probably ran into the arms of a real man.
A lot of men think that masculinity is under threat, but it's under threat from these whiny crybabies, not from feminists. A feminist can't make you stop being a man. She can't make you turn into a whiny crybaby. She can't make you shirk your responsibilities to your children. She can't make you act as if you have no duty to anyone but yourself. Only you can do that to yourself.
---
Vocal acrobatics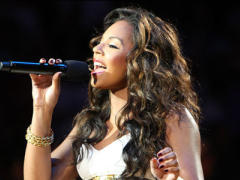 I just don't get the singing style where you try to squeeze a dozen different notes into a single word. You hear it in modern "R&B" music, not to mention many public performances of the national anthem. Is it really so boring to have a word contain only one or two musical notes? Why put entire scales into each word?
It seems to me that people who do this are not really interested in musicality: they're interested in showing off what they can do with their voices. It's like the long-winded guitar solo syndrome of 1980s hair bands: it's just a person showing off what he can do, even if it doesn't help the music at all.
---
Anti-Elitism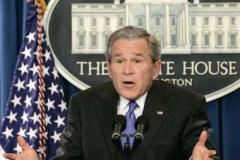 Have you ever had someone call you an "elitist?" Let's say you mutter something about how people who flunked out of high school are obviously too stupid to vote (which they are), and someone retorts: "that's the most elitist thing I've ever heard". Are you supposed to feel ashamed? Fuck no, you should say "thank you"! During the 2000 US presidential campaign, Roger Ebert commented that George W. Bush sounded more like a longshoreman than a president, and was promptly slagged for being an "elitist" What a sad commentary on society: it's bad to want a leader who exudes intelligence now? It is hardly unreasonable to demand public speaking skills from a public speaker, folks.
What the fuck is wrong with intellectual elitism? Should I be ashamed that I would value the opinion of an educated historian on historical matters over that of, say, Ralph the bus driver? Should I be ashamed that I value the conclusions of the scientific community on matters of Big Bang cosmology or evolutionary biology over that of the fucking Bible-thumping minister at the local Baptist church? Should I be ashamed that I value the information in my university physics textbook over the ignorant drivel being spewed by GreenPeace in its idiotic campaign against nuclear power?
Let's look at what the word "elitism" means: in ancient times, "elite" meant "noblemen", ie- useless aristocrats who inherited their money. But today, "elite" means "the best". When people say "elite Delta Force operatives" or "elite athletes", they aren't talking about people who inherited their status; they're talking about people who earned it.
Wake the fuck up, people. This isn't the 18th century, and there's nothing wrong with thinking more highly of the skilled than the unskilled. The world already has enough problems without demonizing the perfectly reasonable tendency to respect people who know more than the average monkey.
---
The Yearly "Put the Christ Back in Christmas" Bullshit-O-Rama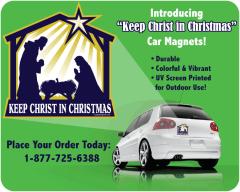 Christmas is the coolest holiday of the year. Everything is so festive, there are coloured lights everywhere, seasonal music, egg nog, brightly wrapped gifts, mistletoe, Santa Claus, decorated trees, and people exhorting others to show generosity of spirit. What's not to like?
Unfortunately, the answer to that is "plenty", at least for "old-school" Christians. You see, they think that Christmas is not Christian enough. Look at the above list: how much of it has a Biblical basis? Coloured lights? Songs like "Rudolph the Red-Nosed Reindeer"? Egg nog? Wrapped gifts? Mistletoe? Santa? Trees? Just about the only part of the traditional Christmas celebration which has any Biblical basis is the bit about generosity and "good will to all men", and let's face it: judging by the aggressive behaviour of people in shopping mall parking lots, most people are only paying lip service to that part.
There are a wealth of websites and books which will explain in great detail why the Christian roots of Christmas are a fraud: that they have no idea when Jesus was born and that they chose the date in order to co-opt the traditional pagan winter solstice festival. There are numerous sources in which you can research things like the Roman "Saturnalia" festival, which predated Christianity itself. But what you need to understand is that commercialism is saving Christmas, not destroying it.
Christians should not resent the commercialization of Christmas; they should be thankful for it, because it is the only thing propping up their bogus fraudulent co-opted Christianization of a pagan holiday. Do you know why it's virtually impossible to ignore Christmas? It's because of business. Specifically, retail businesses which bank on Christmas for a big chunk of their annual revenue. They are the ones who make Christmas inescapable: they are the ones who blanket the airwaves with reminders, who festoon the stores, who make Christmas so ubiquitous that almost everyone celebrates it, regardless of his personal beliefs.
Without these corporations spending literally billions of dollars every year to publicize Christmas, it would be reduced to the status of something like Easter: a major holiday for the church, a long weekend for everyone else. Christian supremacists like Bill O'Reilly boost their ratings by complaining that Christians are being "persecuted" if they can't put nativity displays on government property (as if they don't have churches or private property they can use instead), but every Christian should give thanks to the forces of secular commercialism which help them keep this fraud alive. Without those evil secular commercialists, Christmas would be nothing more than another long weekend.
---
Idiots who don't try to decide until they get to the front of the line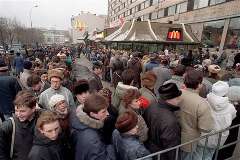 From time immemorial, mankind has debated the great questions. Where do we come from? Why are we here? And why the fuck can't people figure out how to behave in a goddamned lineup? Today I was waiting in line behind some idiot and her daughter at a ticket redemption counter in Playdium. Simple, right? No. The woman was patiently asking her daughter: "OK, we have a hundred and ninety tickets left. Do you want the furry bunny, or do you want the earrings?" And her daughter was jibber-jabbering with her as the two puttered about the counter looking at all the options … with a half-dozen people lined up behind them!
Meanwhile, I was waiting with my son and we already knew exactly what we wanted. Hell, we had known what we wanted for so long that we were already talking about where we were going to eat once we finally got out of this fucking lineup! So I eventually got fed up, elbowed my way to the counter, and redeemed my tickets. Naturally, the idiot thought I was being rude. Well fuck you, I wouldn't have done that if you weren't taking longer than a fucking Catholic Mass to pick your stupid dinky little trinkets.
It's the same all over: people get to the front of a lineup after waiting for half an hour, and they actually have trouble deciding what they want to order. What the fuck? Didn't you have more than enough time to make up your mind while you were waiting in line for a goddamned half-hour?
---
Guys who think their big tough dogs make them more manly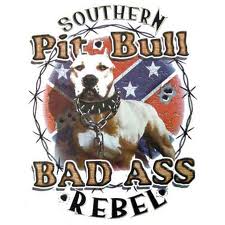 Yes, I have a little lapdog. And yes, Mr. Wannabe Tough Guy has a big tough scary guard dog. Does he think this makes him more of a man? Does he think that those moronic little put-downs like "that's not a real dog" or "my dog could eat that little rat dog for breakfast" will somehow assert his manliness?
Guess again. There's this psychological phenomenon known as "compensation", and people who brag about their dogs' manliness are compensating for their own lack thereof. If you're one of these idiots, I'm going to let you in on a secret: no matter what you may have heard, you will not impress girls by owning a dog whose schlong is bigger than yours. Your "bad-ass" dog does not make you any more of a man.
---
The Same Shopping Centre Everywhere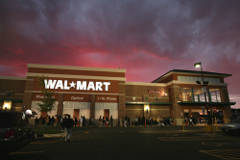 I'm not sure when it happened. Somewhere along the line, big-box shopping centres (also known as "power centres") started cropping up all over the world, with the same stores in them. There's a Wal-Mart, a Home Depot, a Best Buy … you know the shopping centre I'm talking about. It's ruining the sense of excitement when you travel. You can go anywhere, and no matter what you do, you find yourself driving by the exact same goddamned shopping centre. I even saw pictures of a shopping centre in China that looked like it could have been in Toronto or New Jersey. And it goes without saying that this pattern is devastatingly uniform across the United States. Wherever you go, there's the same fucking shopping centre.
I'm sick of it. I want to see local businesses! When I go on vacation, I want to eat at restaurants which are not carbon copies of restaurants I have at home. It pisses me off when I go into a mall in some far-off place and if I didn't know better, I would think I was at the mall ten minutes from home. Worse yet, if there's a McDonald's in the food court of that mall, it will usually have a huge line-up even while nearby eateries are struggling to stay solvent. Why the fuck do people eat that goddamned warmed-over McDonald's shit when they could try something new? There are people out there who are working hard and pouring their hearts and souls into a business, and watching you morons ignore them without even trying their food, so you can line up at the fucking McDonald's.