by Rebecca Wong
I sometimes wonder how many previously religious people have truly lost the beliefs of their childhood. It seems to me that I am part of a relatively small group. It's quite obvious that church attendance is down from what it was a few decades ago. But I suspect that in many cases, this poor attendance is due to a declining belief in organized religion, and not a loss of belief in God Himself. While many people no longer view the Bible as the literal truth, they have kept their belief in a supreme Deity and in a Heaven and a Hell. People who were taught to be atheists from birth don't belong in my group either. They have not "lost" anything. In fact, with each fossil find and medical discovery, their beliefs are shown to have a growing validity. For the newly deconverted, this can make for a very lonely struggle. Only a former Christian could understand the hollowness and the fear that accompany a complete loss of faith. And people who share similar views can be hard to find, when admitting your lack of belief could get you labelled an "immoral person". During the past three years, I have navigated through the myriad feelings following deconversion, but it has not always been easy.
I grew up in a Mennonite community in a small town in Ontario, Canada. My uncle was the head pastor of the largest Mennonite church in that town. My mother directed many of the choirs that sang regularly in our church. She was also one of the organists. Some of my happiest childhood memories are of potato sack races at Sunday school picnics, playing games on the front lawn during daily vacation bible school, and the excitement of receiving, every year without fail, a brown bag filled with various nuts, fruit, and one piece of chocolate at the Christmas Eve ceremony. Since there was always only one piece of candy in the whole bag, my classmates and I would hurriedly rummage through our bags so we could compare our treats. In my mind, I can still smell the mixture of nuts and oranges and hear the crumpling of the paper bags. It is a pleasant memory.
For me and my immediate family, living in the Mennonite community was definitely not all hearts and flowers. My mother happened to have married an Englisher. While marriages to "outsiders" are more common today, I think my mother was one of very few in her generation to marry a non-Mennonite. This did not make us outcasts, but it definitely lowered our position within the Mennonite hierarchy. I never once heard it spoken, but there was always a feeling that my brothers and I were not as important as certain other children in the congregation. Although my minister would be sad to hear this and might even deny it, I felt it to be true. Equally obvious to me, was the heightened status of certain other, and coincidentally also richer, families in our church. While it could be denied that my perceptions were real, nevertheless, I felt a growing sense of isolation within our church and this was the first chink in the armour of my faith.
Whatever the reasons for my loneliness within the church, I spent most of my adolescence dreaming of a time when I could get away from that congregation and into another where I would be more appreciated. I got my chance when high school ended. As soon as my last class was over, I moved myself to the university town of Waterloo where I would be attending school in the fall. I had registered myself in the Mennonite residence on that campus and was hoping that here, I would be accepted and my faith would bloom. Instead, I found the same feelings again. A lot of people from my home town had come to the same university and the same Mennonite residence, and we continued our various roles in that new setting. This failure to find a place of peace and acceptance led to feelings that are probably common to most adolescents and young adults: a growing sense of the supreme injustice of life. In a similar vein, I remember having conversations with other people about how it was unfair that we experienced luxuries of all description while fellow humans in places like Africa were suffering with disease and warfare. How did God let this happen? Why were we so blessed? The typical answer that "God knows all" and "there is a pattern that only God can see" simply didn't work for me. I felt guilty and unworthy of my riches. These strong feelings also contributed to my deconversion.
Perhaps the biggest push in the loss of my faith was from the young man I met and later fell in love with; an atheist named Mike Wong. Any Christian anywhere will tell you of the "dangers" of marrying a non-Christian, and I must admit it pains me to have proven their hypothesis correct. Mike was very rational and possessed a cynical side similar to my own. We got on swimmingly. At last I had someone to complain to about the unfairness of life. Someone who wouldn't sermonize at me about not having enough faith in God's plan. But although my companion was an atheist, it didn't mean that I was going to drop my faith. In fact, I insisted that he learn more about Christianity. Which he did. He pored through the Bible and presented me and my room-mate with very intelligent takes on the various passages that he read. And for a time there, it seemed that he might join the ranks of the religious. Later, in his marriage vows, he thanked me for bringing him closer to God. My faith seemed stronger than ever and as we set off on our new life together, I would never have envisioned that our future path would lead me to atheism.
Our move to the small town of Wallaceburg two years after our marriage spelled the end for Mike's short-lived spirituality. The residents of that community were almost uniformly fundamentalist Christians. You either didn't go to church at all, or you believed that every word of scripture was literal truth. Friends tried to convert Mike but would not accept his spirituality unless he could believe that the Old Testament was true and that God was at work in every small minute of his life. The harder they tried to convert him, the farther away from them he moved. Spirituality dies when specific rules are forced upon it. Mike's total rejection of Christianity disappointed me, but it did not lessen my own faith. While I agreed that their restrictive form of religion was strangling, I held on to my own looser beliefs. Nonetheless, Mike's rejection of spirituality definitely influenced me.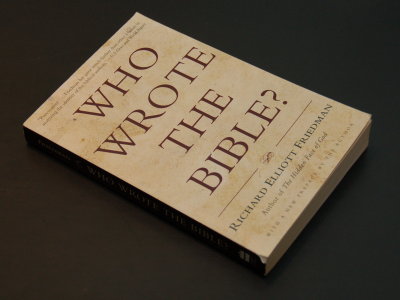 Oddly, the final step in my journey toward atheism occurred during a time of spiritual renewal for me. After four years of living in a suffocating fundamentalist community, we moved back to Toronto. Although Mike's faith was gone forever, he came to church with me because it was important to me. As I was passing a milestone in my life, I felt that I needed the direction that faith could give me and so I thrust myself back into the religious community, even attending Bible study, which I had never done before. And although I viewed many Christian doctrines with more skepticism than I had in the past, I remained hopeful that there was an ultimately benevolent guiding force behind all the pain and misery of life. I was in this state of mind when Mike showed me a book called Who Wrote the Bible[1]. He warned me that he knew some people who had lost their faith after reading this book. Despite his comment, I didn't really expect my faith to die after reading it. In fact, I took it on as a kind of challenge. I was curious about the possible identities of the authors of the Bible, but I also thought it would be a good test of faith for me. My faith had survived all manner of doubts in the past, but it did not survive the reading of this book. I could probably still find the exact page where my faith fell like a rock.
I found that my conscience no longer allowed me to attend church, but since it was summertime, I don't think my church friends took much notice of the fact that we were no longer attending on Sundays. For my part, having gone through many episodes during my life where my faith faltered and then revived, I was not at first sure if this was indeed the end. I half suspected that, given time, I would return to reading the Bible for guidance once again. But when fall came and the emptiness remained, I felt that I needed to call someone and tell them what was going on. I phoned a friend of mine who attended the church and was, in fact, very involved in various church events. I told her that I was pretty sure that my faith was gone. She then assured me that every Christian goes through times like this, and I knew what she meant, but I also knew that this time was different for me. I felt odd. Strangely calm, yet no longer buoyed by anything, my spirit gradually sank deeper and deeper until Christmastime, when I finally fell into a pit. Every Christmas until then, I was able to feel a deeper meaning behind all of the glitter and tinsel. On that particular year all I saw was the endless, unapologetic commercialism. Add to this the usual nausea and trepidation that accompanies the annual visitation of distant relatives and my Christmas was about as enjoyable as a heavy piece of Christmas fruitcake. More than usual, I was relieved when it was all over.
That whole, sad, empty experience seemed to show me that I needed something to believe in, or mentally, I wasn't going to make it. I read books on all of the different religions hoping to find another that would again buoy my spirit. While I learned a lot, I didn't really find anything that I felt I could believe in. Islam was too close to Christianity, Hinduism was too strange, parts of Buddhism seemed acceptable, but the whole reincarnation thing threw me off. Taoism held the most promise and so, for a time, I read the Tao Te Ching and perused the Book of Change, but I remained skeptical and aloof. Finally, one night, after a particularly frustrating day, I broke down and cried. I felt alone and adrift on a meaningless and dangerous sea. I couldn't find an acceptable oar to help me paddle through life. Mike took pity on me and said "Instead of trying to cling to something, why don't you just let yourself fall and land on your own two feet. It's not as scary as it seems." I did stop crying that night, and I'm not sure if it really happened overnight, but I did learn to land on my feet. And, surprisingly, it was a lot less scary than all the clinging that I had been doing.
As odd as it may seem to Christians, I believe that I am a more moral person since becoming an atheist. All of the various "rules" that Christians are supposed to follow are often contradictory and are also often cruel. For one thing, I never understood as a Christian how some very kind and generous non-Christians could be excluded from God's promised gifts. I often thought that some non-Christians were more loving people than the Christians with whom I went to church. If God really wanted us be loving above all else, how could he reward some petty and conniving Christians just because they believed in Jesus, while punishing some non-Christians when all they ever did wrong was their disbelief? As an extension of this, how could murderers get into heaven after converting to Christianity on their death-beds? Even if their confessions were legitimate, it doesn't seem fair to reward such people when, once again, there were other more moral people who just happened to be Buddhists rather than Christians. And how could it really be better to ostracize a person in religious congregation who didn't conform to some of the various grey areas in their particular church? That is what the Bible tells us to do, but it doesn't seem very loving to me. Does a person who does many good deeds get more credit in heaven? According to the Bible they don't, but doesn't it seem right to give greater rewards to someone who has been more loving and generous as opposed to someone who has been an isolationist? A Christian person's life is abound with many such puzzling questions. Following the rules set out in the Bible can sometimes cause more heartache than it solves. Consider the many admonishments I endured while living in Wallaceburg for having married a non-Christian. Did they really think that it would be better for me to divorce my husband and deprive my children of a father and a stable family just because my husband was an atheist? Likely, they would say that I should never have made such a choice in the first place, but now that it had already been made, what would be the "Christian" thing to do? Once I became an atheist, life really became a lot simpler, and, oddly, it became easier to tell right from wrong. A person who is generous, loving and kind is a good person. A person who is mean, selfish and cruel is a bad person, no matter what religion he has. What could be simpler than that?
Life also becomes more precious once you are no longer a Christian, because there is no longer a fantasy land called Heaven. If life doesn't get any better than this, then I'd better treasure the finite moments that I have been allotted. Each day becomes a gift; finding joy wherever you can is mandatory. On the opposite side of the coin, murder and torture seem all the more heinous. If there is only one life, then being a witness or a party to any kind of pain is difficult to shrug off. Comments made during the crusades such as "Kill them all, let God sort them out" are horribly presumptuous, and since there is also no longer a Hell, the problems in the justice system seem even more pressing. Once our origins are no longer tied to a creator, oddly, life itself also seems more miraculous. Imagine the millions of years it took just for plant life to generate. And how amazing it is that a body so complex as ours, with such potential, had even evolved at all. Wherever that spark came from that we call life is truly a mystery, one that I find simply astounding. It is only after becoming an atheist that I have finally taken control of my life. I don't wait for gifts to be handed down to me, my life is my own to make.
On a more personal level, my self-image has vastly improved. As I mentioned earlier, I felt a tremendous amount of guilt for being given the opportunity to live in North America rather than in a third world country. I knew that I did not deserve it and no matter how much money I gave away to charitable causes, I could never rid myself of the pathetic images I read about. Since I had been given the gift of living here in Canada, I felt I needed to repay God in some way. Yet I never believed that I was doing what was expected of me. No matter how many good deeds I did or how spiritual I tried to be, I always felt unworthy. My faith was never as sure as I felt it should be and I was sure that God was somehow disappointed in me. Whenever something went wrong in my life, I was sure that it was payback for not living up to what God expected of me. No matter how many times I asked God to forgive me, I still felt his disappointment. And the constant swinging back and forth from penitence to pride was really making me dizzy. Now, although I still believe that I have been greatly privileged to have been born where I am, I don't feel that there is an accumulating spiritual debt. I still give to charitable causes, but not because I feel a God watching over my shoulder and grading me. I do it because of the bond of humanity.
To end, I actually feel happier now that I am an atheist and I also feel more emotionally well-balanced. Although I still feel the loss of the religious community, I now see other people in my neighbourhood as my true community. My eyes have also been opened to the divisive force that religion really is. I see the crazy things people do because of religion, the hate that occurs because of it – to gays and lesbians and atheists. Now more than ever, I believe in the potential goodness of individual people when they act with open hearts. I believe in life itself. I wish that one day, we would all act like the brothers and sisters that we really are. I wish for a day when differing religious beliefs no longer result in death and cruelty. Perhaps I am naïve, but I believe that one day this could happen. Sadly, I don't believe it will ever come about until monotheism is dead and it looks like it will be many generations yet before that happens. Still, I see all of the progress that we have made, each holding onto the hands of those who came before us and I am awed and inspired. Surely the same noble creatures who could create beautiful buildings, design computers the size of your hand, decode the genome, conceive of democracy, and act with compassion and heroism in times of trouble can one day learn to look beyond the blinders that religion has imposed upon us. I believe that one day we can.
Footnotes
1. Who Wrote The Bible, Richard Elliott Friedman, Harper Collins Publishers (1997): ISBN 0-06-063035-3 (paperback).