USS Vengeance
From Imperial Wiki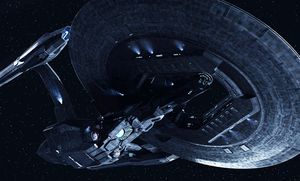 The USS Vengeance is an experimental dreadnought built by Starfleet after the destruction of Vulcan. It appears in Star Trek Into Darkness.
Features
The Vengeance is substantially larger than the Constitution-class Enterprise
The Vengeance has advanced phasers that can be fired while travelling at warp speed. This feature is unique to the Vengeance (so far) in the new movie continuity.
The Vengeance is heavily automated, allowing it to be operated with a minimal crew. It can actually be operated for short periods by a single person, although additional crew are needed for maintenance functions.