Star Wars: The Clone Wars
Jump to navigation
Jump to search
Star Wars: The Clone Wars

| | |
| --- | --- |
| Company: | 20th Century Fox |

| | |
| --- | --- |
| Release Date: | August 15, 2008 |

  [Source]
Star Wars: The Clone Wars is a computer-animated motion picture and cartoon series from Lucasfilm, depicting events that occur between Star Wars: Attack of the Clones and Star Wars: Revenge of the Sith.
The Movie
The animated Clone Wars story started as the upcoming television show. George Lucas decided the animation and story was good enough for a feature film.
The story has Anakin Skywalker, Obi-Wan Kenobi, and Yoda, and introduces a "new feisty female Jedi sidekick called Ahsoka Tano."
The animation style is similar to Japanese Anime, and the characters move like the puppets from the Thunderbirds television show. [1]
The movie opened in 3rd place, meaning more people went to see The Dark Knight than the brand-new Star Wars movie. Reviews were mixed and mostly negative, earning the film a 17% rating on Rotten Tomatoes. [2] Many critics have compared it to an over-long Saturday morning cartoon.
The TV Show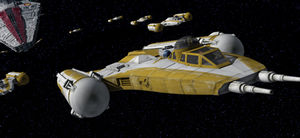 The TV series was produced in High Definition and aired on the cable channel Cartoon Network.[3] Five seasons were completed, each consisting of 20 to 22 episodes. Each episode runs for 22 minutes. A sixth season was created for the series release on Netflix.
The first episode, "Ambush," aired Friday, October 3, 2008.
In the first season, SciFiWeekly reviewed the series premier and gave it a "B" rating. [4]
In 2013, the series won two Daytime Emmy Awards.
Novelizations
The ever-popular Karen Traviss' novelization of the movie was published in June, 2008. [5] Stargate novelist Karen Miller based the second book, Wild Space, on the TV series and will be published in November, 2008. [6]
Three more Clone Wars novels will be published, with one more by Traviss and two more by Miller. [7]
Notes