Nyota Uhura
Jump to navigation
Jump to search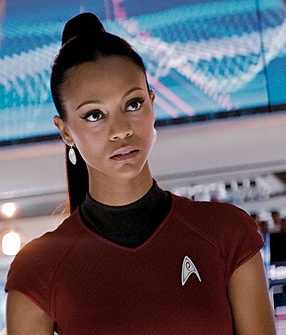 Lieutenant Nyota Uhura served as chief communications officer for the Constitution-class starship USS Enterprise during its five-year exploration mission and retained the post almost continuously until the ship was destroyed. She continued to serve on the Enterprise-A until that ship was decommissioned.
Lieutenant Uhura was a notable character in the Star Trek series. She was a black female who was also a main character. She would be cited as an example of the original Star Trek's progressive attitude towards race and civil rights, unlike a certain Star Trek: Enterprise character.
Trivia
Lieutenant Uhura's given name was never revealed in TOS or any of the related movies. The character first received the given name "Nyota" in the cast list for Star Trek XI.
Nichelle Nichols played Uhura in TOS and the first six Star Trek movies; Zoe Saldana played Uhura for Star Trek XI.
While her specialty is communications, Uhura is also a qualified navigator[1].
References