Husk
Jump to navigation
Jump to search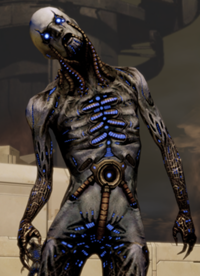 Husks are cyborg soldiers created by the Reapers from the populations of planets they have attacked. The abilities of husks can vary widely, depending on the attributes of the species used to create them. All husks are fearless and resistant to pain; they only stop attacking when they have sustained too much damage to function.
While not unintelligent, husks are not sapient. They have no autonomy, acting only to fulfill the orders of the Reapers, which they receive via a remote signal.
Husks are hardy enough to deploy via "drop pods" that look like meteors impacting on a planet's surface. Presumably mass effect technology is used to reduce the impact energy enough for the husks to survive the landing.
Creation
Details vary depending on the species used to create the husks, but the primary method involves impaling victims on spikes known as "dragon's teeth". While impaled, nano-tech devices are introduced into the victim's body, replacing specified tissues and modifying organs to suit the Reapers' design. The transformation from humanoid victim to combat-ready husk is complete in a matter of hours.
Husk Variants
Gallery