Quarian
From Imperial Wiki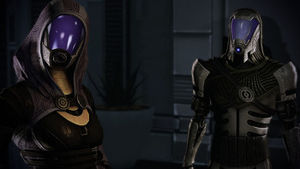 The quarians are a nomadic species of humanoid aliens in Mass Effect who are known for their skills with technology and synthetic intelligence. They originate from the planet Rannoch.
Attributes
Quarians are bipedal humanoids with three fingers (including an opposable thumb) on each hand and two toes on each foot (which are digigrade). The conditions of the quarian homeworld and the artificially sterile environment of the fleet have left quarian immune systems extremely weak. They must wear environmentally sealed suits at all times, for any foreign microbe can cause intense illness and possible death in a quarian. Because of their constant need to wear sealed suits, their true appearance is unclear to the rest of the galaxy.
History
In the 19th century (by Earth reckoning), the quarians developed artificial humanoid platforms with virtual intelligence, calling them the geth, which means "servant of the people" in the quarian language. The geth were originally intended to be a non-sapient work force, but they were designed to share data and processing power for greater efficiency. As the geth network grew larger, the geth slowly achieved sapience. Fearing revolt by the geth, the quarians preemptively tried to shut down all geth. This attempt failed and caused the geth rebellion that the quarians were trying to avert. After a brutal war, the quarians were driven from their homeworld, Rannoch, and their major colonies.
The quarians now wander through the galaxy in the massive Migrant Fleet, either seeking a suitable new homeworld or a method to defeat the geth once and for all. They persist by living off food grown in three massive agricultural ships called "liveships", and by moving from system to system in search of resources. The fleet consists of aging quarian ships and ships obtained from other races; the quarians rarely build new ships of their own.
Threat Assessment
The quarians possess tens of thousands of ships, constituting the single largest fleet in the Mass Effect galaxy. However, most of these ships have little or no armament. They do, however, possess enough combat ships to ward off pirates or mercenaries who would want to prey upon the fleet. Quarians are known for their technological proficiency, with combat management systems comparable to the most advanced Mass Effect races.
In 2186 the quarians began a process of retrofitting much of their fleet with weapons in preparation for an invasion of the Perseus Veil to retake their homeworld from the geth. In particular, they equipped the three liveships with dreadnought-scale mass accelerators. This transformed the quarian fleet into a formidable fighting force, though still considerably weaker than the major galactic powers. The quarians also still lack the infrastructure for extensive maintenance of the fleet in a wartime situation and for the efficient construction of new ships.
Also by 2186, the quarians had managed to replicate the stealth technology used in the Normandy SR-2.