Denobula
Jump to navigation
Jump to search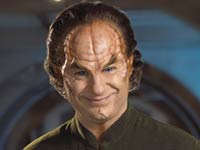 Denobula is a planet in the Alpha Quadrant in Star Trek: Enterprise that is notable only for being the home planet of Dr. Phlox. The planet was never seen during the series run, and it was never mentioned in TOS, TNG, DS9, or VOY.
Denobulan Biology
The native Denobulans are an unremarkable race of rubber-forehead aliens. Their only biological distinction seems to be that Denobulan mating requires a threesome.
Denobulan Technology
Denobulan technology is presumably comparable to that of Earth in the 22nd century. Denobulan medical technology emphasizes the use of live animals with medicinal properties.