Atlantis (Stargate)
Jump to navigation
Jump to search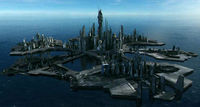 Atlantis is a mobile city built by the Ancients in the Pegasus Galaxy.
History
Atlantis served as the Capital to the Ancient presence in the Pegasus Galaxy.
This section is a stub and needs to be completed. You can help by editing this article.
Features
Atlantis is powered by three Zero Point Modules. It can also draw power from an underwater geothermal station, Tau'ri Naquadah generators, solar panels on the city, and lightning strikes.[1]
The city is submersible, capable of resisting water pressure to unspecified depths.
The city is capable of lifting off from a planet's surface and making intergalactic flights.[2]
Atlantis has an Ancient drone weapon launching system, although its ammunition reserves were almost completely depleted during the war with the Wraith.
The city has several dozen Puddle Jumpers in several bays.
References