Alan Dean Foster
Jump to navigation
Jump to search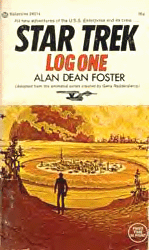 Alan Dean Foster is a science fiction and fantasy author who has written hundreds of novels, short stories, and non-fiction works.
He novelized Star Trek: The Animated Series in ten books, Star Trek Log 1-10, and wrote the story for Star Trek: The Motion Picture.
His Star Wars novels include the novelization of Star Wars, the 1978 novel Splinter of the Minds Eye which was based on the original plans for a Star Wars sequel, and a prequel novel The Approaching Storm.