USS Enterprise (CV-06)
Jump to navigation
Jump to search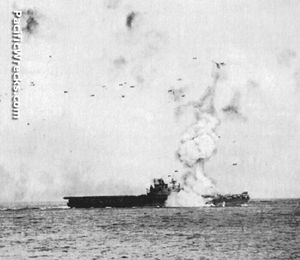 The USS Enterprise (CV(N)-06)* (also known as the Big E, Lucky E, Galloping Ghost, and Grey Ghost) is the second ship of the Yorktown-class carriers and the most decorated ship of WW2 having participated in twenty major battles. The Enterprise is also one of only three pre-WW2 USN aircraft carriers to survive the war (the others were USS Saratoga (CV-03) and USS Ranger (CV-04)).
History
Launch and Commissioning
World War II
Easily qualifying for the title of the most decorated ship ever to serve in the United States Navy. This ship was an Yorktown-class aircraft carrier and was laid down on July 16, 1934. The ship had a capacity for carrying 90 combat aircraft including during its career, SBD-2 Dauntlesses, F4F-3 Wildcats, TBD Devastators, TBF-1 Avengers, F6F-3 Hellcats, F4U-2(N) Corsairs, SB2C Helldivers, TBM-3D Avengers(night combat bombers), and F6F-5(N) Hellcats(night combat fighters). The ship was a participant in nearly every naval engagement in the Pacific Theater of WWII. From October 26, 1942 to May 1, 1943 she served as the only operational aircraft carrier serving in the Pacific fighting the Japanese navy constantly during this period. After this she was massively refitted and returned to service on November 6, 1943. Part of the extensive modifications included improved Radar and radio landing beacons earning the ship the addition of an N to its designation to indicate its new night operations capability, the first carrier to successfully perform a night attack and recovery of aircraft. USS Enterprise was the first US Navy Carrier to adopt 24 hour round the clock combat operations. Her attacks on Japanese kamikaze bases proved vital during the Pacific War. She served in combat operations until battle damage from a kamikaze hit on her forward elevator took her out of action on May 16, 1945.
The ship has received 20 Battle Stars, the Asiatic-Pacific Campaign Medal, the Presidential Unit Citation, the Navy Unit Commendation, the British Admiralty Pennant(Only non Royal Navy Ship with this honor), the Philippine Presidential Unit Citation, American Defense Service Medal, American Campaign Medal, World War II Victory Medal, and the Philippine Liberation Medal.
Fate
The ship was deactivated on January 17, 1946 at the New York Naval Shipyard and decommissioned on February 17, 1947. On July 1, 1958, the Enterprise was sold to the Lipsett Corporation for scrapping and by May 1960, the scrapping was complete. The steel was sold to General Electric.
There is a reason that the flagship vessel of the Star Trek universe is named Enterprise.
*Note: The (N) stands for Night Operations. The US navy would later use N as a indication of Nuclear powered carriers hence the (N) added to the N when referring to the CV-6.
Notable Battles
Coral Sea
Battle of Midway
Battle of Guadalcanal
Battle of the Eastern Solomons
Battle of Santa Cruz
Battle of Rennell Island
Gilbert Islands Operations
Marshall Islands Operations
Battle of Truk
Hollandia (New Guinea) Operations
Mariana Islands Operations(otherwise known as the Great Marianas Turkey Shoot)
Battle of Leyte Gulf
Battle of Iwo Jima
Battle of Okinawa
External Links