Star Wars: The Clone Wars
From Imperial Wiki
Star Wars: The Clone Wars

| | |
| --- | --- |
| Company: | 20th Century Fox |

| | |
| --- | --- |
| Release Date: | August 15, 2008 |

  [Source]
Star Wars: The Clone Wars is a new computer-animated motion picture and cartoon series from Lucasfilm, depicting events that occur between Star Wars: Attack of the Clones and Star Wars: Revenge of the Sith.
The Movie
The animated Clone Wars story started as the upcoming television show. George Lucas decided the animation and story was good enough for a feature film.
The story has Anakin Skywalker, Obi-Wan Kenobi, and Yoda, and introduces a "new feisty female Jedi sidekick called Ahsoka Tano."
The animation style is similar to Japanese Anime, and the characters move like the puppets from the Thunderbirds television show. [1]
The movie opened in 3rd place, meaning more people went to see The Dark Knight than the brand-new Star Wars movie. Reviews were mixed and mostly negative, earning the film a 17% rating on Rotten Tomatoes. [2] Many critics have compared it to an over-long Saturday morning cartoon.
The TV Show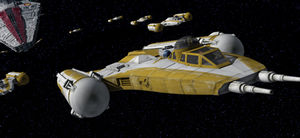 The TV series is being produced in High Definition and airs on the cable channel Cartoon Network.[3] There will be at least forty 22-minute episodes.
The first episode, "Ambush," aired Friday, October 3, 2008.
SciFiWeekly has reviewed the series premier and given it a "B" rating. [4]
Novelizations
The ever-popular Karen Traviss' novelization of the movie was published in June, 2008. [5] Stargate novelist Karen Miller based the second book, Wild Space, on the TV series and will be published in November, 2008. [6]
Three more Clone Wars novels will be published, with one more by Traviss and two more by Miller. [7]
Notes