Harry Kim
Jump to navigation
Jump to search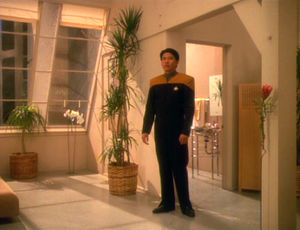 Harry Kim was an ensign serving on the USS Voyager during its seven year journey through the Delta Quadrant. He is perhaps the least developed (if he was developed at all) character on the show. He is widely considered to be Janeway's personal plaything.
Probably his biggest contribution was getting infected by cells from Species 8472 giving The Doctor plenty of samples with which to experiment and find a way to fight the aliens from fluidic space.[1] Still, all he did was lay on the bed the whole time.
Stupidity
Sexually confused
He preferred to return to Voyager and be stuck in the Delta Quadrant than remain on Earth in an alternate reality with his horny girl friend. He would even rather hang out in a pool hall with Tom Paris than be with said woman.[7]
He turned down a double date so he could continue running diagnostics.[8]
But no, he's not supposed to be gay.