Armored Assault Tank
From Imperial Wiki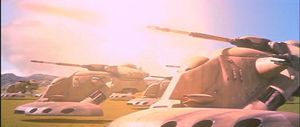 The
Armored Assault Tank
or
AAT
appears in
Star Wars: The Phantom Menace
as the primary armored combat vehicle of the
Trade Federation
. It continued to see service along side the many other vehicles of the
CIS
during the clone wars.
The AAT is equipped with a repulsorlift, a primary turreted laser cannon, and six forward-firing shell launchers as well as additional anti-personnel blasters.
The tanks were crewed by battle droids at the Battle of Naboo but it might be possible to crew them with living humanoids, as well.