Arcology
From Imperial Wiki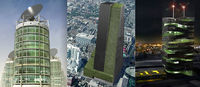 An
arcology
(a portmanteau that combines the words
architecture
and
ecology
) refers to a proposed type of large-scale structure capable of accommodating large numbers of residents.
Vertical farms
are a type of arcology.
Arcologies in science fiction
Mega City One in Judge Dredd is a vast stretch of arcologies on the eastern seaboard of the former US
Hive Worlds in Warhammer 40,000 are dominated by huge arcologies known as hives
Coruscant has its surface covered by arcologies.