The Battle of Hoth
Written: 2000.07.10
Last revised: 2000.07.27
Objective: Evacuate valuable Rebel personnel and equipment from Echo Base before it's destroyed.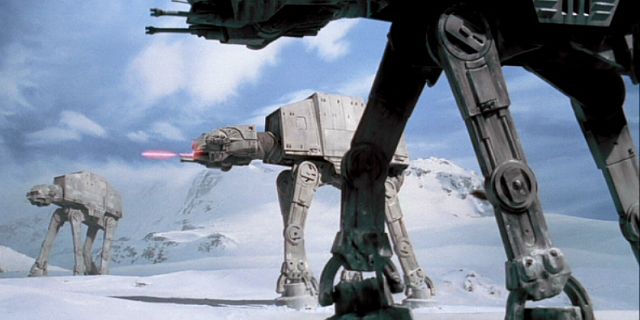 Enemy Assets:
A small Imperial flotilla consisting of one Executor-class starship and several ISD's, complete with their fighter complement.

Ground troops and armoured vehicles.
Friendly Assets:
Heavy ground-based ion cannon.

Theatre energy shield.

Several dozen snowspeeders.

A squadron of X-wing fighters.
History:
Vader's flotilla blockaded the planet.

Imperial ground troops landed on Hoth with armour support. It is never explained exactly how they enter the shield, but several possibilities exist:

Perhaps it's an "umbrella" and extends to the horizon, so they simply walked under it. But if that's the case, then why couldn't TIE fighters and bombers hover under it, and join the attack?

Perhaps it's a dome, and they had to burrow underground to bypass it (much as Picard did in Generations). But if that's the case, how did the mammoth AT-AT's get through? Did they burrow huge holes for themselves? It seems mildly improbable, but it's certainly possible.

Perhaps we should take a hint from TPM, in which SW shields demonstrated an ability to discriminate against specific intruder types. The Rebel theatre shield may be designed to block all fast-moving objects, such as missiles and fighters. However, a speed discriminator alone isn't enough, because fighters could have hovered slowly through the shield (and the tanks could have slowly moved through the Gungan shield in TPM). Therefore, the shield may also have been designed to discriminate against repulsorlift vehicles (another potential reason for walkers).

In any case, the Imperial ground troops attacked Echo Base, and although they took some minor casualties, they were able to easily capture the base, kill most of its defenders, and destroy the shield generator.

Admiral Piett reported to Vader that 17 of the escaping Rebel transports were destroyed by the blockade (TESB novelization), although an undetermined number of ships were in fact able to escape.

The mission was a disaster for the Rebellion, because they lost their base and were only able to evacuate a fraction of their personnel.
Could the Federation have succeeded where the Rebellion failed?
First, we must define their assets. Instead of a single planetary shield generator, they would have to make do with a single weapons platform in geosynchronous orbit. Instead of a heavy ground-based ion cannon, they would have a ground-based phaser array.

This would not pose much of an impediment to Vader's flotilla. A single weapons platform would pose no serious threat (picture it exploding harmlessly against the shields of the Executor as the behemoth starship flies through it on its way to Hoth), and a ground-based phaser emitter would be quickly destroyed without the protection of a planetary shield. The base could be laid defenseless in short order, without a time-consuming ground battle.

Vader wanted certain Rebels alive (particularly his son), so indiscriminate bombardment would not be likely. The Feds would have to expect pinpoint bombardment, ground strike missions with fighters or bombers, and multiple landing craft full of stormtroopers.

However, the Feds would transport personnel to orbiting ships rather than loading them the old fashioned way, so they would probably be able to save most of their people. If we assume that they can beam people up quickly enough to evacuate the entire station in time, they would only lose the base itself, along with the heavy equipment.

The resulting battle would therefore probably turn out better than the original. They would lose the base and all of their equipment, but few of their personnel (as opposed to the Rebels whose shield bought time to disassemble and load some of their equipment, but who lost most of their personnel).
Flip side: how would the Federation fare in the Empire's place?
First, we must define their assets. Instead of a small flotilla of Star Destroyers, they would have a small flotilla of Federation ships (a half-dozen, for example), including one top-of-the-line command vessel such as a Sovereign-class ship. Instead of armoured personnel carriers such as AT-AT's, they would have soldiers on foot.

Indiscriminate bombardment would be out of the question because it would leave no one alive, even if it could somehow penetrate the Rebels' strong energy shield. Remember that the objective is to eliminate most of the Rebels, but not all of them. Skywalker must survive, and so must his friends.

Transporters would be ideal for extracting Skywalker and his friends, but they wouldn't work through the energy shield. Furthermore, since the Rebels are assumed to have intel data on Federation capabilities, they would undoubtedly be jamming their sensors.

However, their ships are smaller and more maneuverable than Star Destroyers, so the Rebels might have trouble hitting them with the ion cannon.

The question of whether the Rebels can hit the Federation ships is critical, since it defines the Federation's ability to improve upon the Empire's success in this battle:

If the Rebels can't hit the Federation ships with their ion cannon, then the Federation blockade would probably destroy or disable every single transport. The transports are slow, ungainly and unarmed, and a pair of X-wing escorts is no match for a warship.

If the Rebels can hit the Federation ships with the ion cannon, then the outcome would be similar to that of the original battle: some of the transports would undoubtedly manage to escape while key blockade ships are temporarily incapacitated.

If the Federation were to attempt a ground battle in order to eliminate the shield generator, their lack of armour would be a fatal handicap. They would have to trudge through 25 kilometres of deep snow, on foot, in extreme low-temperature conditions (an agonizing ordeal of burning lungs and quadriceps, as any good Canadian knows), while under attack at ranges of up to 16 km from Rebel DF9 anti-infantry guns. They would also face constant air attack from Rebel snowspeeders, and they would have no air support of their own. It would be ugly.

It has been suggested that they might have approached the base via nearby mountains instead of walking across open ground, but the mountains would be even worse. They would still have to cover 25 km (while under fire from snowspeeders), but now they would have to add high altitudes and treacherous icy mountain passes to their list of hardships. When they finally get through, they'll be exhausted, freezing, and probably missing a few men (either from falling, frostbite, or cannibalism). Worse yet, they would still have several kilometres of open ground to cover (under fire) before they reach the base, since it doesn't sit right at the foot of the mountains.

The futility of a Federation ground assault means that the Rebels would have all the time in the world to sit behind their shield and load up their transports, rather than rushing around the way they did in the original battle. They could therefore launch all of their transports and fighters at once, instead of hurriedly sending up each transport the minute it's loaded. Such a large group would be much more difficult to stop with a blockade, particularly since they would obviously scatter and fly in different directions.

However, all of the above reasoning is actually moot. The Empire used hyperspace probe droids to scour the Outer Rim for hidden Rebel bases, and they used their great speed to reach Hoth within hours after finding the base. The Federation has no practical way of scouring the outer rim of an entire galaxy for hidden Rebel bases, since it would take decades for each probe to reach its target (even if we assume it carries enough fuel).

If we generously assume that they find the base (let's say we make the discovery of the base one of the basic mission parameters so that it is unalterable), and their ships miraculously happen to be within a few hundred light years, it would still take them days or weeks to arrive even if they throw caution to the winds and red-line their warp drives. Since the Rebels would begin evacuating as soon as they detect probes or active scans, they would be long gone by the time the Federation ships arrive.
Conclusions: If the Federation were to replace the Rebellion in this battle, they would largely succeed where the Rebels failed, thanks to their transporters. However, in place of the Empire, they would have arrived to find an empty base. I would give the Federation 1 for 2 in this battle.
---
Acknowledgements
Ted Collins and Jonathan Boyd, for pointing out that the Federation could use transporters to rapidly evacuate personnel to orbiting ships, thus raising the Federation score to 2 of 2.

Michael January, for pointing out that the Federation would need days or weeks to arrive, so they would show up to find a deserted base, thus lowering the Federation score back down to 1 of 2 (I can't believe I didn't think of that myself).

E1701, for making the earnest (albeit simple-minded) suggestion that the mountains might represent an easier approach to Echo Base.